Grove Estates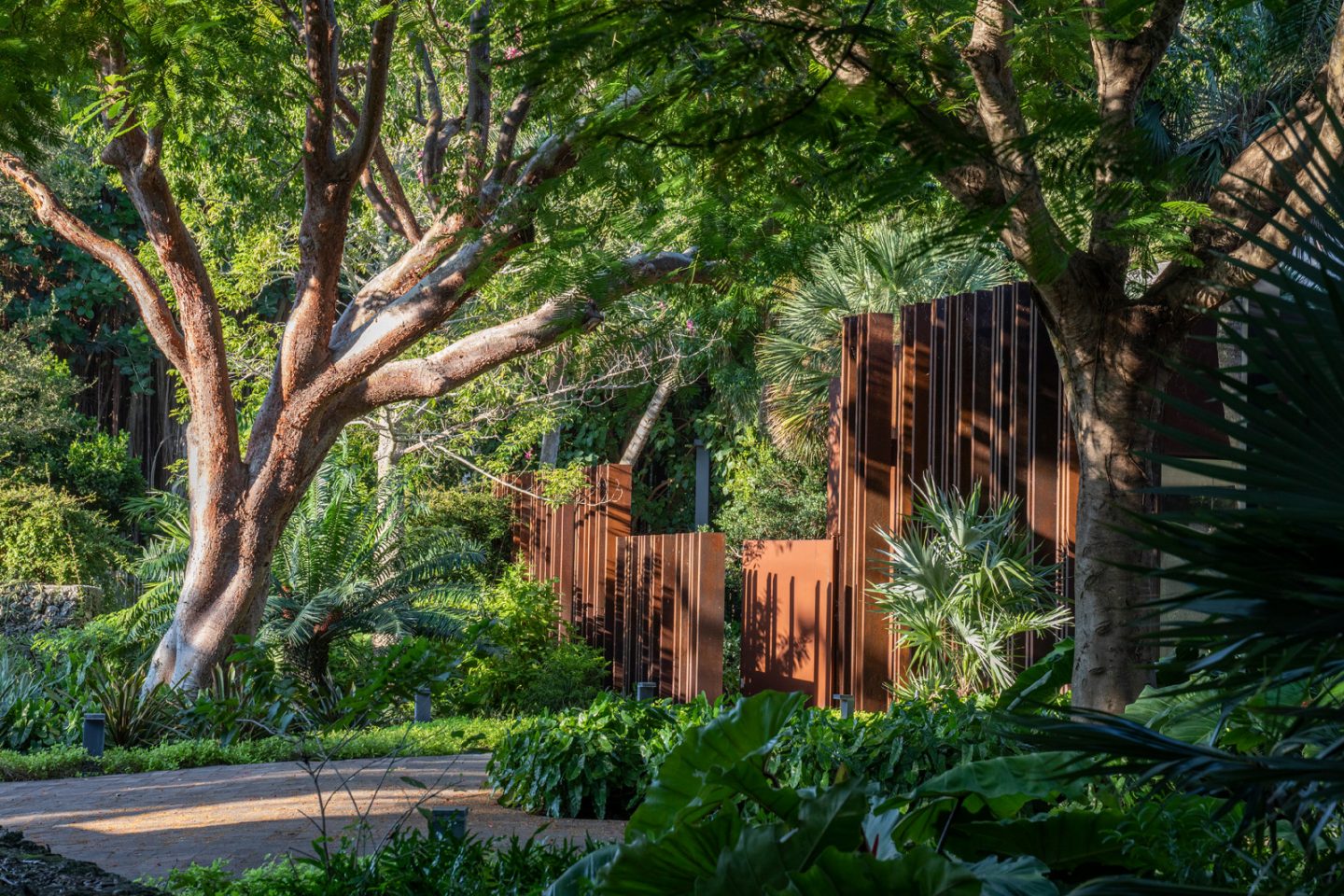 Grove Estate's grand entry emphasizes the landscape rather than the structures. Raymond Jungles and his team of creatives designed a sympathetic garden entry of grand scale for this high-profile residential community along a scenic highway and historic pedestrian trail in Coconut Grove, Florida. RJI began conceptualizing the garden in 2008 when the 7-acre property was […] … Read More
Grove Estate's grand entry emphasizes the landscape rather than the structures. Raymond Jungles and his team of creatives designed a sympathetic garden entry of grand scale for this high-profile residential community along a scenic highway and historic pedestrian trail in Coconut Grove, Florida.
RJI began conceptualizing the garden in 2008 when the 7-acre property was originally zoned for more than 12 residences. The client then brought on an architect to collaborate with RJI and finalize the architecture of the gatehouse and concierge center structures.
Jungles was pleased to work with a returning client, collaborate with architect Rene Gonzalez and his team, and The Chisholm Architects land planning firm. Together they aligned the design team's goals of balancing garden and residence, resulting in a site plan of multiple single-family homes. In cooperation with the Kampong, RJI was able to place the main road on the south side of the property – in alignment with RJI's design principles and philosophies.
The design team reduced the height of the existing six-foot tall oolite stone wall at the property line and designed a monumental wall set back 50 ft. to position a large part of the front property on the roadside. This design solution invited the community to enjoy beautiful architecture and the garden. Passersby via car, bike, or on foot are invited to experience the beauty of the sculptural tree canopies and bold architecture.
Specimen tres including Gumbo Limbo, Banyan, Royal Poinciana, and Silk Floss, were preserved in place or relocated to prominent locations in the entryway. The plant material for the Grove Estates Garden is 90% native to the locality, creating habitat for the local flora and fauna as well as humans. Grey Porphyry Stone paving was introduced for durability and to compliment the Corten Steel. All other fences, walls, or enclosures were painted wrought iron charcoal and concealed in vegetation.
Grove Estates entrance sequence sets the ambiance for the remainder of the seven acres of residential garden spaces. There are generous common grounds, and the undeveloped side of the site will have a restored hammock ecosystem and total "edge of woods" separation from adjacent properties. The firm's design principles and the design team's desired aesthetic will carry over to the balance of the residential community.
Year of Completion

2021

Location

Coconut Grove, Florida

Client Representative

DSS Consultants, LLC

General Contractor

Dorlom Constructions

Architect

Rene Gonzalez Architects

Landscape Contractors

Orchid Man, Geomantic Designs, Inc.

Civil Engineers

Alvino & Associates, Inc.

MEP Engineers

Henry Vidal & Associates

Structural Engineers

U.S. Structures

Lighting Designer

O'Brien Lighting

Horticultural Consultant

Lisa Hammer

Photography

Robin Hill