Grovenor Rooftop Garden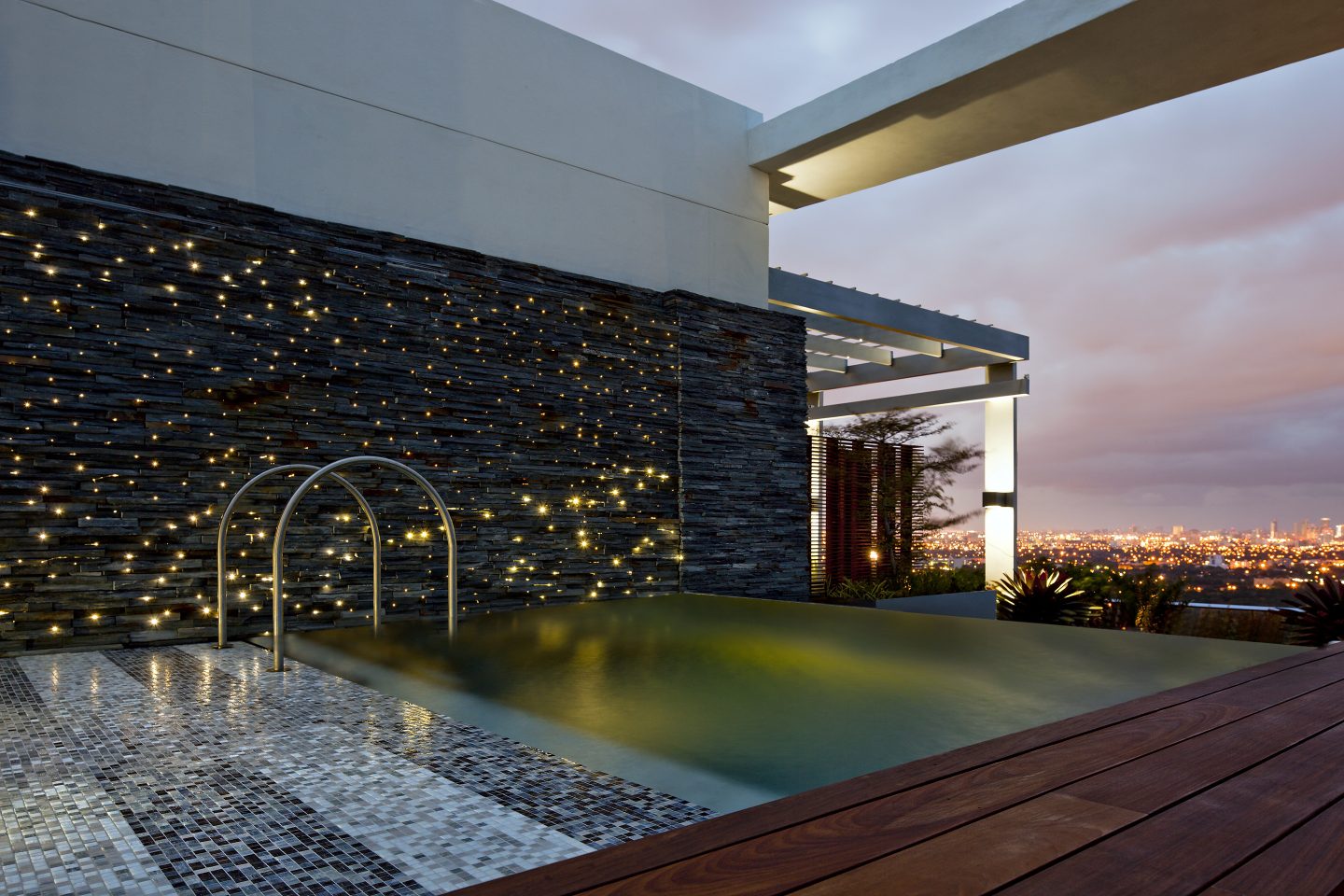 Ella Fontanals-Cisneros, design advocate, art collector, philanthropist extraordinaire, persuaded us to take on her private residential garden. "The sky's the limit," she said. And she meant it. The site is thirty-four stories above Coconut Grove's main boulevard, across from Sailboat Bay. The views from the 2,543-square-foot, L shaped rooftop are spectacular (although on the scary […] … Read More
Ella Fontanals-Cisneros, design advocate, art collector, philanthropist extraordinaire, persuaded us to take on her private residential garden. "The sky's the limit," she said. And she meant it. The site is thirty-four stories above Coconut Grove's main boulevard, across from Sailboat Bay.
The views from the 2,543-square-foot, L shaped rooftop are spectacular (although on the scary side for some). We developed the program for the garden with Ella and her Spanish interior designer, Luis Bustamante: a cozy, secure space with human-scale proportions; plantings as lush as the high winds and glaring sun would allow; low maintenance and drought-tolerant landscape materials; accommodation for intimate groups and for gatherings of fifty or more.
Raymond lengthened the fifteen-foot-square-pool, correcting its proportions, and added a wide lounging edge. Stepped ipe platforms, which diminish the pool's obtrusive mass, provide water access. The dimensions of the pool are expressed in the adjacent stone water wall. Thousands of fiber optic filaments placed between the stacked stones twinkle at night, mimicking the city's lights. An infinity-edge pulls the pool's surface taut. Water cascades over the edge, splashing down a vertical tiled surface into a basin four feet below. Two massive columns that are expressed on the Bayfront facade of the building rise above the roof level, and we sculpted them to allow for better circulation around the pool.
The ipe wood of the pool shell, elevated deck, and platform steps creates a datum line on the walls and wraps a new storage cabinet, which doubles as an elevated planter, as well as a private service kitchen with a dumbwaiter near the dining area. Over the dining and kitchen area, we installed an aluminum trellis in the vocabulary of the building and a retractable awning.
On the eighteen-foot wall adjacent to the main access to the rooftop is a stainless-steel cable grid that supports fragrant flowering vines. A panel of tillandsia, designed by Jennifer Davit, floats in its center.
2008 Award of Honor Florida Chapter American Society of Landscape Architects
Year of Completion

2008

Location

Coconut Grove, FL

General Contractor

Grandhaus Corporation

Landscape Contractor

Plant Creations, Inc.

Photography

Steven Brooke, Roger Foley

Consultants

O'Brien Lighting, Inc.; Jennifer Davit