Jungles River Studio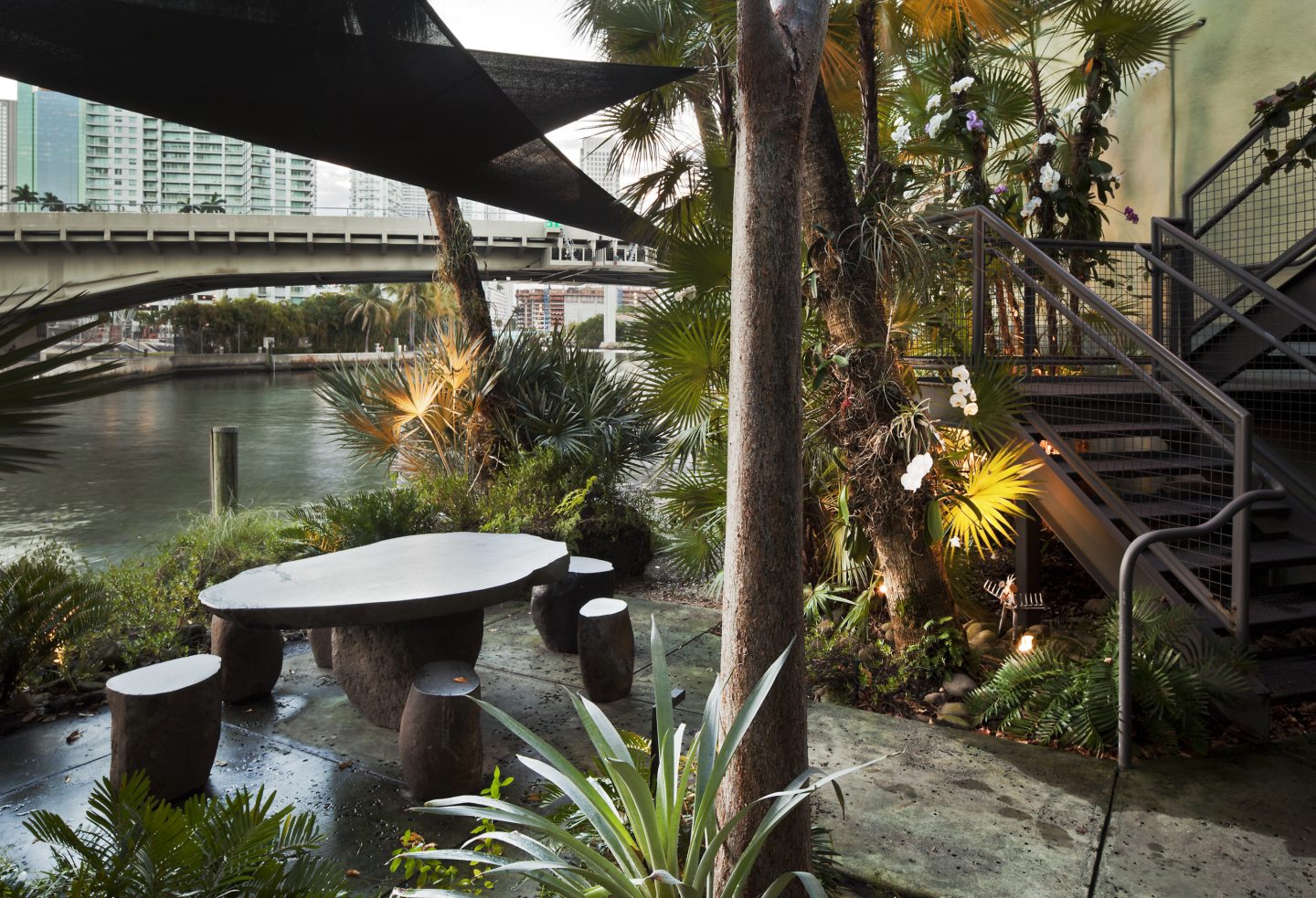 Our studio once occupied the second floor of an industrial building in downtown Miami. In its previous life, the building was an old awning warehouse surrounded by asphalt and hard surface. The "concrete jungle" was full of potential, positioned on a slight bend in the Miami River just east of I-95. Raymond designed the entry […] … Read More
Our studio once occupied the second floor of an industrial building in downtown Miami. In its previous life, the building was an old awning warehouse surrounded by asphalt and hard surface. The "concrete jungle" was full of potential, positioned on a slight bend in the Miami River just east of I-95. Raymond designed the entry garden along the edge of the Miami River, creating a verdant oasis between the high-rises that dot the riverfront.
Raymond was driven by habitat creation and selected native palms and shade trees to demonstrate their success in an urban area. As time progressed, a microclimate emerged for his studio's enjoyment. Patina-stained concrete pavers lead to a lower garden area with river views framed by character Sabal palm trunks adorned with flowering orchids and epiphytes. Lunch hours and impromptu meetings are held underneath two distinctive shade sails designed by the late Bamboo Barry. Welcome distractions have occurred, from the occasional manatee encounters to the hum of weathered shrimp boats returning from a hard day's work.
The garden is low maintenance; in fact, it is intentionally left unkempt and overgrown, celebrating the wild side of Raymond Jungles, Inc. The garden embodies our firm's desire to design wild gardens rather than manicured ones. Our studio garden's lighting emphasizes the desired fixtures and light levels for our projects.
After a hurricane killed an invasive Brazilian pepper tree at the end of our street, Raymond decided to extend the garden into the public realm. After this intervention, there was a substantial portion of the Miami River shoreline that started to look like what existed before manmade interventions.
RJI completed three renovations to our interior studio space as we grew from a handful of designers to a staff of twenty creative minds.
Since establishing the practice at this location, the Miami River character has changed tremendously. It was a derelict area on the outskirts of the Brickell neighborhood and on the fringe of the Little Havana community. The most recent real estate market has deemed river frontage a hot commodity. Developments will soon redefine the riverfront as an upscale, vibrant, and livable district.
While our studio is now located in Coconut Grove, RJI was a key contributor to the river's revitalization.
Year of Completion

2009

Location

Miami, FL

Photography

Steven Brooke

Landscape Contractor

Plant Creations, Inc.

Landscape Lighting

PCL Landscape Lighting

Interior Design

Gina Jungles

Shade Sails

Bamboo Barry