Refúgio Jungles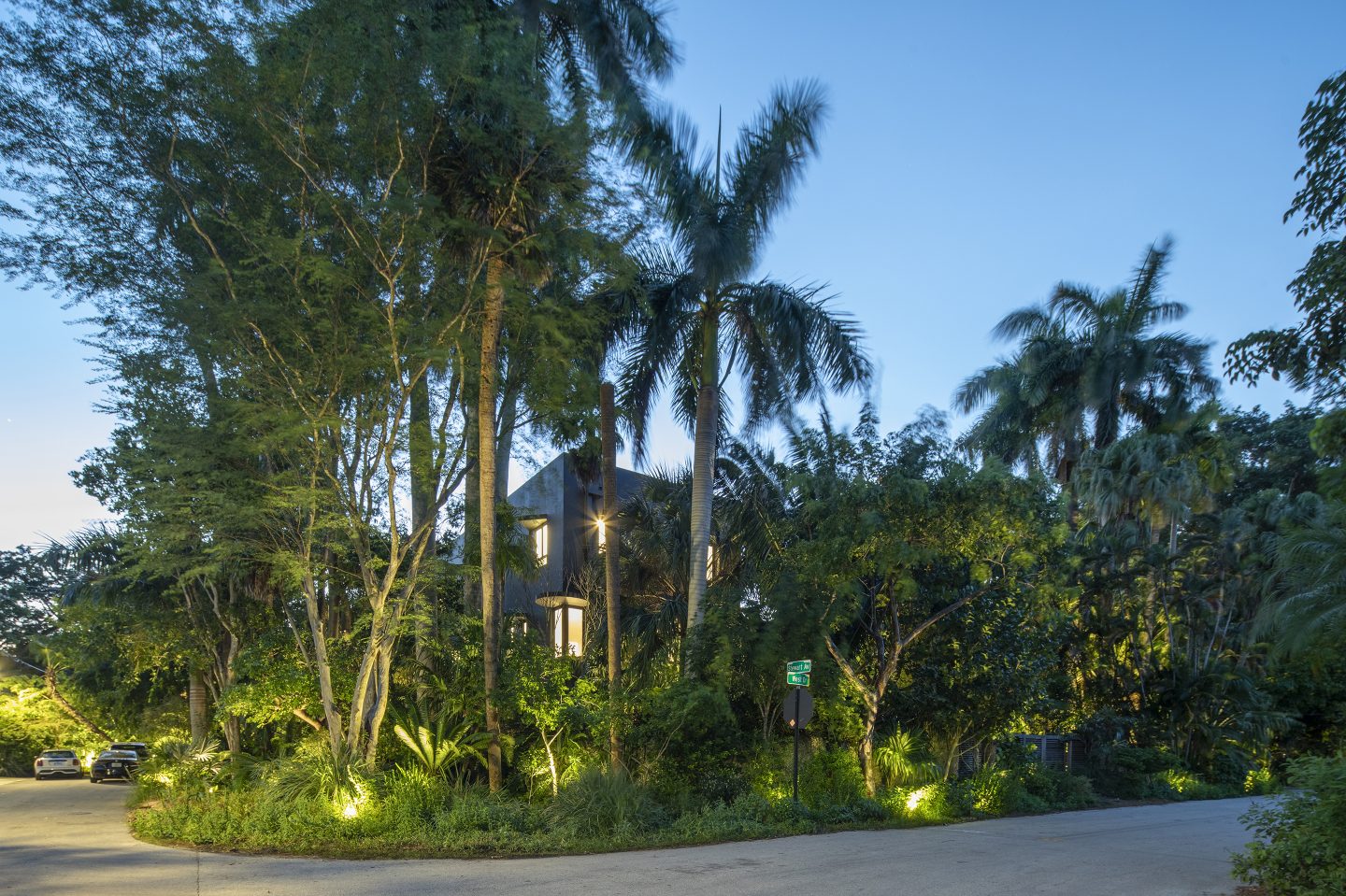 Gina and Raymond Jungles had been renting their home in the South Grove neighborhood of Miami for several years before purchasing the property in 2018. During the Covid-19 lockdown of early 2019, the couple decided to focus their energy on building the garden and concealing the Arquitectonica-designed house. Invasive exotic Tropical Almond trees were removed […] … Read More
Gina and Raymond Jungles had been renting their home in the South Grove neighborhood of Miami for several years before purchasing the property in 2018. During the Covid-19 lockdown of early 2019, the couple decided to focus their energy on building the garden and concealing the Arquitectonica-designed house.
Invasive exotic Tropical Almond trees were removed from the front garden. In their place, a forest of native trees, rescued from planned developments in the Florida Keys, thrive.
The house was painted charcoal to allow the plants to be the focus. The front façade's dated tile elements were playfully redesigned by Gina Jungles in a black and white ceramic tile composition. At night, the structure recedes and glows like a lantern, further illuminating the textures of the three-story forest's fronds and branches.
The approach to the house was missing a key element, a pronounced entryway. Raymond created a boardwalk that leads from the parking area to the front door. Here, the garden foundation is predominantly native yet delicately embellished with specimen cycads Raymond had lovingly nurtured for twenty years.
We feel a garden should have poetry. A forty-foot wood bench greets visitors at the foot of the entry stairs. One may not need a bench of such great length; however, it underlines the garden as a strong yet simple hardscape element. This gesture highlights one of the firm's philosophies of minimalism, clarity, and simplicity of hardscape elements.
There is a profusion of plants to create biodiversity that ultimately invites many creatures, both pollinators, and predators, into the garden. The Jungles's now have a thriving wildlife refuge of foxes, raccoons, peacocks, and opossums.
Hurricane Irma brought down a huge native strangler fig, Ficus Aurea, along the adjacent property line. Raymond and Gina were sad to learn of the tree's demise, however, the void it left allowed for more light penetration and ultimately created a thriving native wildflower habitat anchored by beloved specimen native Florida and Cuban palms.
For exercise and stress relief during the pandemic, Raymond performed most of the site hydrology alterations by shovel. When a tree broker left a mini excavator on-site for a few days, it expedited the process.
Much like RJI's studio garden, he and Gina decided to heavily landscape the public realm and streetscape portions of the property. A specimen Baobab tree gracefully arches over the Commodore Trail and an oolite veneered wall turns green to match that of the many native shrubs that provide habitat for the local fauna. This gesture has greatly enhanced the neighborhood for the public to enjoy.
A roofed second-floor screened porch and water garden to come.
Year of Completion

2021

Location

Coconut Grove, FL

Clients and Lead Designers

Raymond and Gina Jungles

Original Architect

Arquitectonica

Landscape Lighting / Landscape Irrigation

PCL Landscape Lighting / Automatic Irrigation

Landscape Contractors

Plant Creations, Inc. / Arascape, Inc.

Exotic Plant Collectors

Green Integrity's, Arascape, Inc., Signature Trees & Palms, South Coast Grower, Inc.;

Consultants

Jose Rock of Miami Rock Work / Robert Johnson / Deck King Exteriors

Photography

Robin Hill